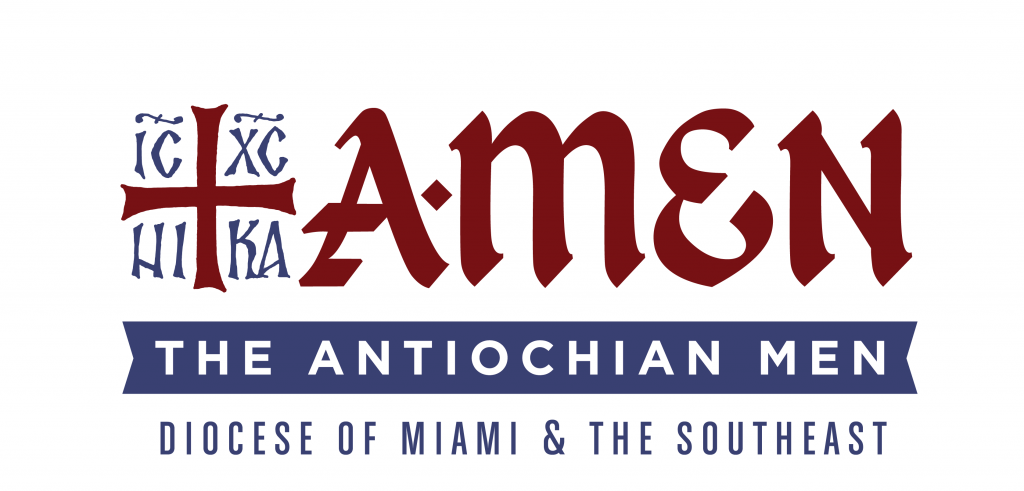 Dear Brothers in Christ,
Christ is in our midst!  He is and ever shall be!
We have some very important information in this newsletter!  Please read thoroughly because there are some great opportunities coming to help strengthen our bonds as a "Band of Brothers" in the Antiochian Men!
---
This Week's Video
We present an extra special interview this week with Deacon Michael Hyatt. Dn. Michael will be one of the guest speakers at the upcoming Fall Retreat in Franklin, TN!  Take a few minutes to watch the video to hear a preview of what Dn. Michael plans to talk about at the retreat in a couple of weeks.
Also, it is not too late to register for the Fall Retreat!  If you haven't already, we recommend you register ASAP and book a hotel room before the second hotel sells out!  The Fall Retreat will be an excellent opportunity for us all to get to know other men in our AMEN brotherhood even better, so don't miss out!
---
It's Not Too Late To Register For The Fall Retreat!
Thus far, the AMEN members make up about 25% of the registrations for the Fall Retreat, not including clergy!  We are going to be a powerful force at the retreat and will take that energy and momentum back to our parishes as missionaries on behalf of our AMEN brotherhood.  It's going to be very exciting to see how our organization serves, with God's blessing, to strengthen our parishes and change lives as time goes on!
NEW Hotel Registration:
https://bit.ly/2KRtWvz
Hampton Inn Spring Hill – $136 per night
Guest Speakers * Workshops * Fun & Fellowship
Worship Services * Child Care w/activities
Hosted by St. Ignatius (Frankllin, TN)
Please click to view:  
Schedule of Event
Retreat Flyer
$40 per adult / $20 per child
---
Inaugural AMEN T-Shirt Limited Pre-Order!
We are accepting pre-orders for a VERY LIMITED TIME on our INAUGURAL DOMSE AMEN T-SHIRTS!  Don't miss out on the chance to be one of the first in our organization to be able own and wear a shirt with our new organization's logo on it!  We will be taking pre-orders on these only until we reach the minimum order quantity required to place our first order to the supplier and will then eventually sell these T-Shirts at some point in the future.  Your payment must be processed in advance for your pre-order to be completed.  The pricing for these T-Shirts are as follows:
Men registered for the Fall Retreat *Special Discount*
$15 for S, M, L, & XL and free shipping!
$17 for XXL and XXXL and free shipping!
Men not registered for the Fall Retreat
$20 for S, M, L, XL + $3 for shipping = $23 total
$22 for XXL and XXXL + $3 for shipping = $25 total
Take advantage of this chance to be included in our first T-Shirt line order by following the 3-STEP pre-order instructions below:
1. Click on the "Pay For T-Shirt Pre-Order" button below and process your payment for the total amount based on the pricing above. If you would like to order more than one shirt, please e-mail us to calculate the shipping cost BEFORE you send your payment so we can calculate the combined shipping cost.
2. Do not add a note and do not check the box next to where it says "Paying for goods or a service?"  Simply process the payment for the total amount of your shirt(s).  It will say the payment is going to Elias (our AMEN Treasurer) which is normal and just how we set it up for now.
3. Send an e-mail to amendomse@gmail.com immediately after paying and indicate (1) what size or sizes you want (2) how many of each, and (3) your shipping address.
We will ship your T-Shirt(s) as quickly as possible but may take a couple of weeks.  In the future, we will be setting up an easier way to purchase these T-Shirts online.  For this one-time "early bird special" pre-order, we must follow the above process.
DON'T WAIT!  This pre-order won't last long!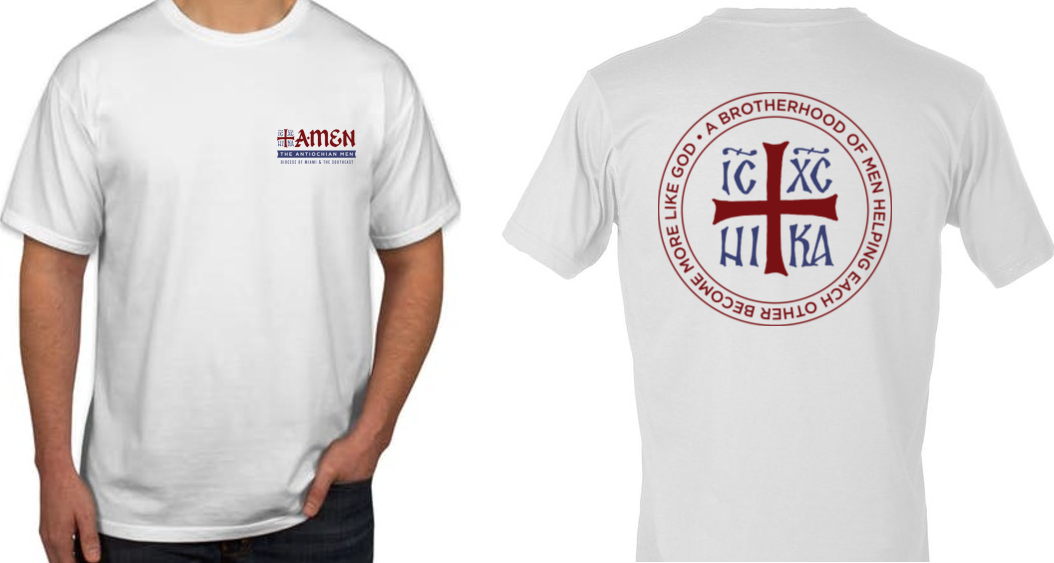 ---
Recent GroupMe Message Highlights
Here are some GroupMe screen shots of messages to AMEN from His Grace, Bishop NICHOLAS, and from our AMEN Spiritual Father, Fr. Hans Jacobse.  His Grace comments on the upcoming Fall Retreat and being added to the main DOMSE e-mail list by reaching out to Elias AbuGhazaleh.  Elias' e-mail address is: eliasisnow@gmail.com
Also, Fr. Hans comments on the book "Truly Human: Recovering Your Humanity in a Broken World" which is the book we are currently reading as an organization and plan to discuss together in the near future!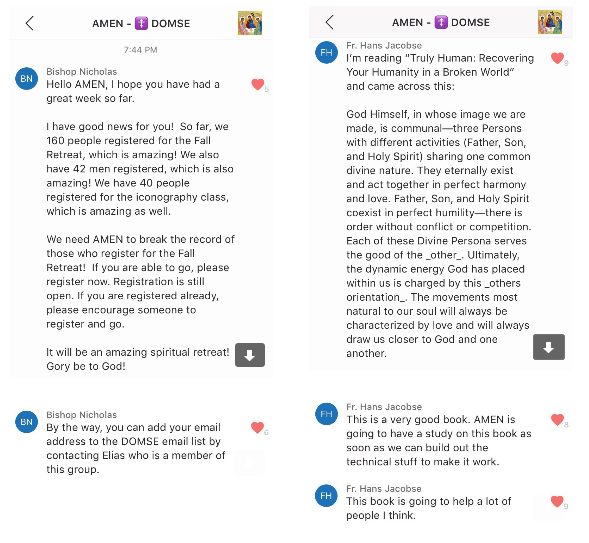 ---
New VLOG Series: Ask Father Hans!
We are planning to launch a new "Ask Father Hans" VLOG (video blog) series on our YouTube Channel and plan to launch this in the next few weeks.  The purpose of this new VLOG series will be to answer any questions that the men in our Diocese have for our DOMSE AMEN Spiritual Father, Fr. Hans Jacobse.
The content of the VLOG is intended to be diverse and is anticipated to delve into the issues that men are currently facing in our culture.  The discussions will be frank, honest, and direct. As men, we all have faced or are facing the same issues regarding sexuality, leadership, struggles with passions, family life, loneliness, and many more sensitive topics.  Questions can range from very simple to the most complex; this is your chance to have a question answered by Fr. Hans.  His answers are likely to help many other men who may have the same questions!
If you have a question to ask Fr. Hans, send your question to amendomse@gmail.com and put "Ask Fr. Hans" in the subject line of your e-mail.
---
Virtual Bible Study for AMEN
His Grace @Bishop Nicholas has given us his blessing to have a Monthly AMEN Virtual Bible Study hosted by Fr. Stephen De Young from Archangel Gabriel Church in Lafayette, LA!  This was discussed and approved by our DOMSE AMEN Board in our most recent AMEN Board Meeting.  Fr. Stephen will be focusing on the stories of important men from the Bible, starting with the story of King David. These will be held via Zoom Meetings on the 3rd Thursday of each month and will start on 9/19/19.
To participate during the live Bible study, you will need to have a ZOOM account if you haven't registered for one yet. Register here for ZOOM or install the app through the App Store or Google Play.
The virtual Bible studies will later be available for viewing online for those who can't attend the live study.  More specific instructions for these Bible Studies will be sent in a future newsletter.
---
AMEN DOMSE Board Charter
The AMEN DOMSE Board met on Tuesday August 20 and adopted by unanimous vote to approve a charter for the Board. You can view the Board Charter at this link:
AMEN DOMSE Board Charter
Since the structure of each parish AMEN group is fluid, based on the needs of the parish and its members, you may not need to have a charter such as this. But If your parish AMEN group is in need of a charter, feel free to use this charter document as a basis for such a purpose.
We are working on a constitution for the AMEN DOMSE groups but we are taking our time to make sure we get it right.  God willing, we will hopefully have it finalized and ready for approval by the next Parish Life Conference.
Please continue to keep us in your prayers.
In Christ,
The DOMSE AMEN Board